CIRCLE e-Pals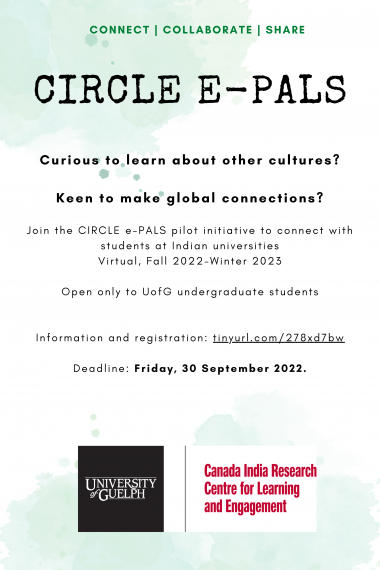 We are seeking SIX curious, engaged undergraduate students at the University of Guelph to participate in a pilot virtual connection activity with students at Indian universities in 2022–23.
You can register here. The deadline to register is Friday, 30 September 2022.
*********
The Canada India Research Centre for Learning and Engagement (CIRCLE) is implementing a pilot project to connect University of Guelph students with students in Indian universities. CIRCLE e-Pals is envisioned to facilitate exchange of ideas, experiences, insights, learning tips and resources, and to learn about and understand different cultures among participating students.
The activity will also contribute to the mission and objectives of CIRCLE by fostering networks of young and emerging scholars in the Canadian and Indian contexts, through student-to-student collaboration wherein knowledge and ideas can be exchanged and inspiration for future interdisciplinary research can be drawn.
The e-Pals activity is open to undergraduate students from any program across the University of Guelph. We have spots for six students who will be matched with six students from Indian universities. It will run between October 2022 and March 2023. 
The pilot phase will be facilitated over a period of six months, over the Fall 2022 and Winter 2023 terms. Time commitments from participating students will be flexible, determined by student needs and interests, however a commitment of at least two hours per month is recommended to receive the full e-Pals experience. This will include a monthly gathering with all participating students. The monthly gathering will offer the space to explore common academic and non-academic needs and interests with CIRCLE and invited resource persons.
The pilot phase will allow CIRCLE to privilege voices and experiences of students to test the value of such an interaction, to improve student experiences, and to seek ways to integrate the e-pal initiative as part of a formal study program (earning required credits, for example).  
Benefits
One-on-one interaction with students from a different cultural and academic context
Development of mutually beneficial relationships focused on personal and academic/professional goals, aspirations and career choices
Development of lifelong friendships
Learning and appreciation of each other's cultures, identifying and eliminating stereotypes
Sharing (research) ideas, experiences, insights, learning tips and resources related to academic study program
Development of skills such as collaboration, teamwork, trust, initiative and intercultural competencies especially in a virtual environment
Process
In Fall 2022, following a call and completion of a questionnaire, participating/selected undergraduate students from the University of Guelph will be matched with participating students at Indian partner institutions (who will go through a similar selection process). We are looking for six students from the University of Guelph to participate in the pilot phase who will be matched with six students from Indian universities.
Matched teams of students will be encouraged and supported to develop mutually beneficial relationships. Students will be encouraged to interact with their partner at least once a week. Students themselves will be responsible for arranging the meet-ups (frequency, platform, etc.), allowing these relationships to grow organically. Like all healthy relationships, the e-Pals activity can be mutually beneficial when participants nurture it regularly.
The e-Pals activity will be supported by faculty mentors from the participating universities. The contact faculty in each institution will interact with participating students one-on-one and as a team.
Additionally, a monthly one-hour gathering of all participating students will be held to focus on common needs and interests. The focus of these monthly meetings will be developed iteratively with input from the participating students. (for example, students may identify the need for a workshop on writing a research proposal, building intercultural competencies, career opportunities, etc.). At the end of the six months, each team will present an activity (solving a development problem, creating a film, podcast, etc.). Resources could be made available to support such activities.
Reflections and learning will be ongoing. At the end of the six-month period, participating students and faculty will be asked to share their feedback and suggestions to strengthen the initiative.
Send your questions to irc@uoguelph.ca.
Find related news by keyword
News Topics