Vijay Nair: Purposeful campus dining
Chef Vijay Nair's vision for the University of Guelph's food service is anchored in sustainability.
"A lot of people are too disconnected from food, and food is way too cheap," says Nair. "People just don't appreciate the value of food."
Food waste is a problem. In Canada, this costs almost $50 billion a year with 58 per cent of food production wasted.
Nair, the Executive Chef of Canada's top-ranked campus food service at the U of G, wants to do his part to mitigate those losses. So, he's setting a forward-looking agenda for his department.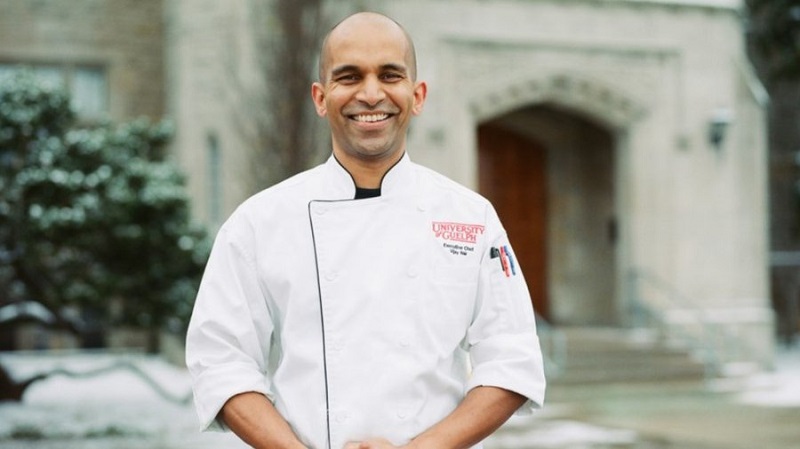 Nair is not a rookie in big-volume kitchens and the huge food waste challenges that accompany them. Since 2010, when he joined the University, he has brought in many different flavors into its 15,000 meals a day kitchen.
Diversity, he says, is key to sustainability.
How so? The more you taste a variety of flavors, the more you are likely to feel an attachment for food. Attachment creates value, reflects Nair.
In India, people bond because of food, and so, value food just as human bonds. He recalls that in his native Kerala, most houses have their own mango, jackfruit and other trees. People share these with neighbors, and this food culture brings people together while reducing waste.
Thus, the move towards responsible food habits is enticing, particularly if food is the medium to shift society towards greater sustainability. "It can't just be a topic of discussion, it has to be experienced," he says.
And we all experience food. "Imagine we are all sitting together, we get served an interesting dish, then all talk about it. Now imagine that dish being a vegetable protein-based mashup. It's a great opportunity to talk about the sustainability and diversity of that dish."
Delivering diversity for sustainability comes naturally for Nair given his Indian roots and training. Mindboggling diversity defines Indian cuisine. And it's not just the array, but the kind of layering that stands out. "If you take a spoonful of chaat, it hits every possible sense. You need more fingers to count the number of ingredients and flavors in there," he says.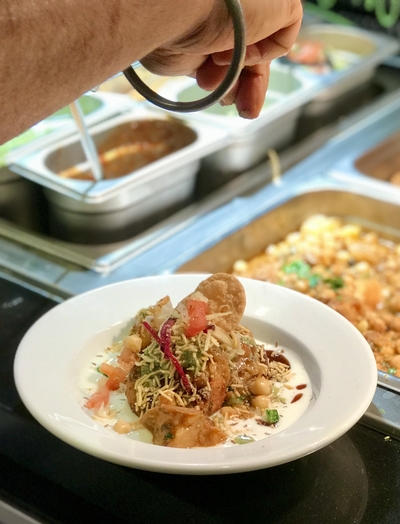 Nair studied at IHMCT Kovalam in Kerala, then moved to challenging stints at top hotels across India. He reminisced being part of the team at Ashok Hotel, Delhi, that catered to India's Prime Minister's official events. He then crossed the Atlantic, with successful roles with Royal Caribbean Cruise Lines, and engagements with renowned chef John Higgins, cooking staggering volumes, while still maintaining the diversity of menus and controlling food waste.
Not just menus, diversifying the variety of grains and vegetables served at food outlets is crucial for sustainability-oriented campus dining. Taking leads from Food Forever, Menus of Change, and Food Forward India, and inspiration from Gagan Anand, Manish Mehrotra, and Garima Arora – global trend-setters in the new Indian cooking scene—Nair gears his team to experiment with novel vegetarian dishes.
The close partnership between the Guelph Centre for Urban Organic Farming, and his department is a part of this. This enables the use of the Centre's produce for meals prepared for students.
Nonetheless, students need to step up, says Nair.
The kitchen can display what's on offer; it's the breaking of our food habits, to try something different, that's difficult.
To create avenues for conversation about food with students, faculty and decision makers, CIRCLE can play a role by organizing events where Indian foods, powered by U of G's kitchen takes centerstage. This way, he thinks the longed for "willingness from the clientele" can be built.
So, curiosity about Indian cuisine and culinary culture can encourage students to study in India, especially if one is serious about "feeding 9 billion by 2050," he says.
We leave you with one of Nair's mouth-watering adaptations of an Indian recipe.
---
Recipe: Beet Cutlet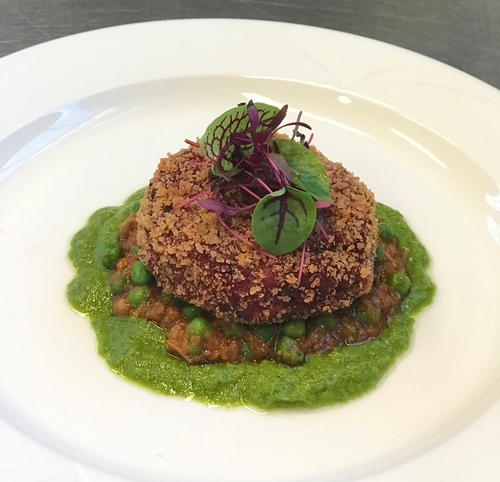 This recipe is a take on the vegetable cutlet I used to love as a kid growing up in Kerala. These cutlets were famously served in the chain of restaurants called the Indian Coffee House which is run by worker co-operative societies. I still am not sure if the beets were added to the cutlets to give its bright red color as a nod to the restaurants being a hub for socialist movements for generations. Using Yukon Gold Potatoes developed at U of G and locally sourced beets with Indian flavors checks off our goals to promote U of G research in campus food, sourcing locally and promoting diversity.
Serves: 4 | Time: 2.5 hours
Ingredients
2 medium beets, whole
3 medium Yukon gold potatoes, peeled and chopped, cooked until soft
2 tablespoons canola oil
1 medium white onion, finely chopped
2 cloves garlic, minced
1 green chili, chopped fine
½ teaspoon ginger, grated
½ teaspoon Kashmiri chilli powder
½ teaspoon turmeric powder
½ teaspoon ground cumin
½ teaspoon chat masala
1 teaspoon garam masala
2 tablespoons cilantro, finely chopped
Salt, to taste
¼ cup breadcrumbs
Preparation
Step 1
Begin by peeling and grating the beets. Wrap grated beets in cheesecloth or a clean dish towel you aren't afraid to stain and squeeze out as much excess moisture as possible. Set beets aside in a large mixing bowl.
If you are making these a day or more in advance, cook the beets before grating. Precooking the beets will prevent them from oxidizing.
To cook the beets, boil them in a pot of water until they are fork-tender, about 30 minutes. After the beets are cooked and cooled, you can follow the same procedure as above.
Step 2
Cook potatoes in salted water until they are soft when pierced with a fork. Once the potatoes are cooked, mash and add to the grated beets.
Step 3
In a pan, warm oil on medium heat. Add onions and cook until soft, about 5 minutes. Add garlic, ginger and green chili and sauté. Add the spices to the pan, cook for an additional minute.
Step 4
Add the onion and spice mixture to your grated beet and potatoes. Add chopped cilantro and breadcrumbs. Season and mix well.
Note: Depending on how wet/dry your mix is, you may not need to use all the breadcrumbs.
Step 5
Divide mix into four equal amounts or eight pieces of smaller size. Using your hands, shape the mixture into patties a little smaller than the size of your palm. Cover patties and chill in the fridge to help the mix firm up, for at least an hour. The cutlets can be made 1-2 days in advance and refrigerated until ready to cook.
Step 6
When ready to cook, lightly oil a non-stick frying pan and place it on medium-high heat. Once the oil is hot, fry patties until crispy and browned, 4-5 minutes on each side.
It is typically served with ketchup.
---
Dilshan Fernando is a student writer for CIRCLE. He is in the first year of his PhD at the University of Guelph.
---
Connect with us! Do you want us to profile you and your research in this section? Or, you might want to tell us how you encountered India or South Asia in our Encounters section. Write to us at circlel@uoguelph.ca.
Find related news by keyword
News Topics