Chloe Zivot: How Living in India Encouraged her Academic Work
In the third year of her International Development degree, Chloe Zivot was offered a unique opportunity, to become an intern at the Office of the Advisor to the Supreme Court of India appointed Commission on the Right to Food. She had the opportunity to live in India's capital, New Delhi, for four months, and truly immerse herself in Indian culture.
The internship was a deeply interesting and multi-faceted opportunity. One of her roles was to assist state and civil society actors evaluate the implementation of the then newly introduced National Food Security Act. She was surrounded by like-minded people dedicated to fostering critical research focused in the Indian subcontinent.
"I had the pleasure of living with a gender and development practitioner and academic who continues to be my mentor, as well as another studying WASH [Water, Sanitation, Hygiene] topics, so there was lots of interesting learning," she says.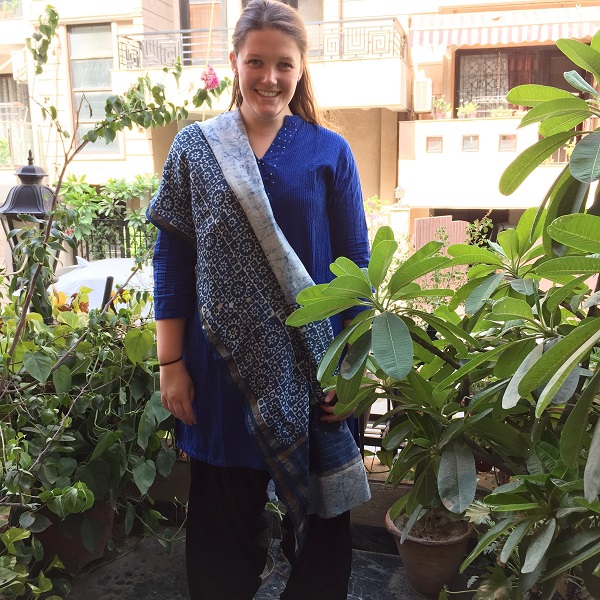 Back at the University of Guelph, Zivot pursued an undergraduate thesis with Dr. Matthew Little, who was then working on his PhD on Type 2 diabetes and the double burden of malnutrition in South India. While she was not involved in field-based research, this opportunity allowed her to contribute to a journal article on anemia in South India and introduced her to the world of population medicine, as well as working with datasets.
This combination of immersive research and public health policy analysis inspired her to ultimately pursue a doctoral degree in Population Medicine. Now a PhD candidate in Public Health and International Development, Zivot's doctoral research focuses on examining gender, environmental, and social determinants of health of mothers and families from refugee backgrounds during resettlement, as well as the role of a home-based social program as a pathway to increased wellbeing in Calgary.
She developed this research in partnership with the Mothers Matter Centre, who oversee the national Home Instruction for Parents of Preschool Youngsters (HIPPY) program. The research has been adapted to examine impacts of COVID-19 as experienced by refugee families, particularly women.
Zivot says in retrospect having the experience of being a foreigner with no friends and family in a new country does help her to at least begin to understand at a very surface level some of the challenges newcomers experience when they first arrive in Canada.
"That experience in India was huge for me, because it was my first exposure learning about policy and development issues, while working in that actual context, versus reading about it," she says. "One of my take-aways is just how complicated issues are. The context—politically, socially—is so important, and these things all come together at different levels in a perfect storm to create change."
As a Steering Committee member of CIRCLE, however, Zivot describes her main contribution as providing the perspective of a University of Guelph student who is outside of the South Asian diaspora.
"I know what it's like to be a student at this school, I know what goes on in students' minds who want to be exposed to new things, but don't know how," she says. "I can think back and put myself in the shoes of undergrad and grad students who don't have much exposure and think about how I got involved."
Zivot stresses the importance of students stepping outside their comfort zones and asking questions. Although the pandemic has stifled physical travel, she believes that students can even start by challenging their own preconceptions of certain countries, and ways of being.
"In this very globalized world, it's really important to explore other places and cultures," she says. "Visiting new places, you do notice that the similarities outweigh the differences. And, in fact, the differences are not as prominent as you thought!"
---
This profile was curated by Liaba Nisar, student writer for CIRCLE and Bachelor of Arts graduate.
---
Connect with us! Do you want us to profile you and your research in this section? Or, you might want to tell us how you encountered India or South Asia in our Encounters section. Write to us at circlel@uoguelph.ca. 
Find related news by keyword
News Topics