CIRCLE Graduate South Asia Conference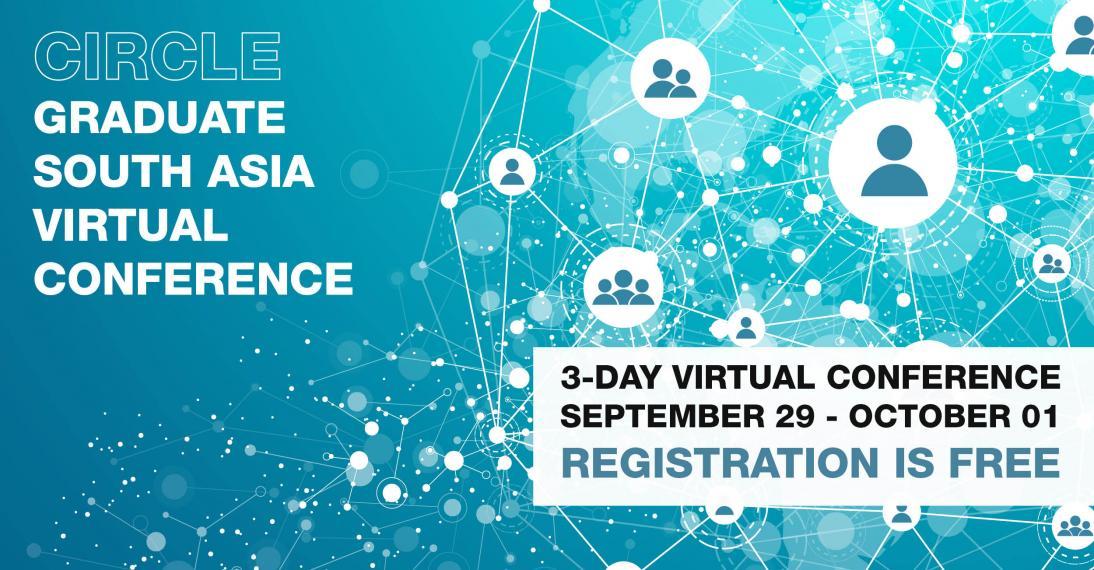 Details
This three-day virtual conference presents PhD scholars from programs in the fields of health, natural sciences and engineering, and social sciences and humanities from Canadian and South Asian Universities. It will showcase the cutting-edge research focused on South Asia and/or the South Asian diaspora and increase awareness about such research, facilitate networking, and foster impactful research and collaborations.
It is OPEN TO ALL. REGISTRATION IS FREE AND REQUIRED.
CONFERENCE PROGRAM 
The full program is available at this link.
Day 1: Thursday, September 29 | 8:30 a.m. – 1:45 p.m. EDT/ 6:00 p.m. – 11:15 p.m. IST
Opening Session l 8:30 a.m. – 8:45 a.m. EDT
Keynote on Research Priorities for South Asia and Opportunities for Canada South Asia Collaboration by Dominique Charron (International Development Research Centre, Canada) l 8:45 a.m. – 9:20 a.m. EDT
Session 1 | Gender Inequity | 9:30 a.m. – 11:00 a.m. EDT
Special Session 1 l Thinking About Doing a PhD? Insights, Tips, and Resources | 11:15 a.m. – 12:00 p.m. EDT
Session 2 l Health | 12:15 p.m. – 1:45 p.m. EDT
Day 2: Friday, September 30, 2022 | 8:30 a.m. – 1:00 p.m. EDT/ 6:00 p.m. – 10:30 p.m. IST
Session 3 l Performances, Identities, and Emancipation | 8:30 a.m. – 10:00 a.m. EDT
Keynote on Research to Policy in the Global South by Rohan Samarajiva (LIRNEasia) l 10:15 a.m. – 11:00 a.m. EDT
Session 4 l Governance and Political Processes | 11:15 a.m. – 1:00 p.m. EDT
Day 3: Saturday, October 1, 2022 | 8:30 a.m. – 1:30 p.m. EDT/ 6:00 p.m. – 11:00 p.m. IST
Session 5 l Sustainability, Environment, and Climate Change | 8:30 a.m. – 10.30 a.m. EDT
Session 6 l Inequality | 10:45 a.m. – 12:15 p.m. EDT
Special Session 2 l Publishing, Research Communication, and Engagement | 12:30 p.m. – 1:30 p.m. EDT
ORGANIZING COMMITTEE 
Graduate student members 
Jeewan Gamage, PhD candidate in Environmental Sciences 

Poojan Joshi, Masters in Applied Social Psychology 
Yamin Rahman, Masters in Public Issues Anthropology 

Keana Shahin, Masters in Epidemiology 
Faculty members 
Conference Facilitator
Dilshan Fernando, CIRCLE Student Engagement Facilitator, PhD candidate in Sociology and International Development