Waste work in the 'clean city': perspectives of women waste pickers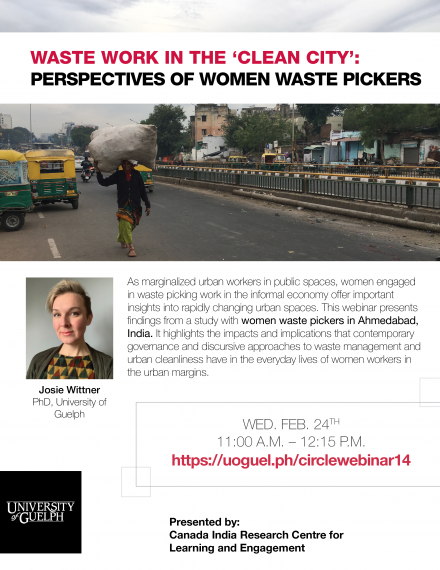 Details
As marginalized urban workers in public spaces, women engaged in waste picking work in the informal economy offer important insights into rapidly changing urban spaces. This webinar presents findings from a study with women waste pickers in Ahmedabad, India. It highlights the impacts and implications that contemporary governance and discursive approaches to waste management and urban cleanliness have in the everyday lives of women workers in the urban margins.
Guest Speaker: Dr. Josie Wittmer, University of Guelph
Event Recording
Waste Work in the Clean City Transcript
Captioning and transcription by Emma Sansome, 3rd year BA honours in International Development Studies with emphasis on Environment and Sustainable Development.
Event Website