Webinar: Can the COVID-19 crisis guide India towards an equitable, robust health system?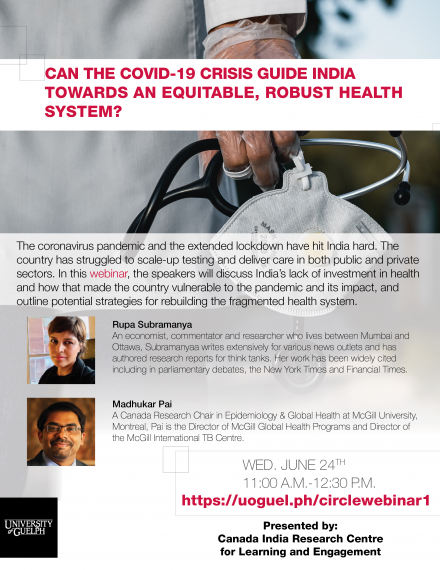 Details
The coronavirus pandemic and the extended lockdown have hit India hard. The country has struggled to scale-up testing and deliver care in both public and private sectors.
In this webinar, the speakers will discuss India's lack of investment in health and how that made the country vulnerable to the pandemic and its impact, and outline potential strategies for rebuilding the fragmented health system.
Speakers
Rupa Subramanya | An economist, commentator and researcher who lives between Mumbai and Ottawa, Subramanyaa writes extensively for various news outlets and has authored research reports for think tanks. Her work has been widely cited including in parliamentary debates, the New York Times and Financial Times.
Madhukar Pai | A Canada Research Chair in Epidemiology & Global Health at McGill University, Montreal, Pai is the Director of McGill Global Health Programs and Director of the McGill International TB Centre.